The 2023 Subaru Love Promise Community Commitment Award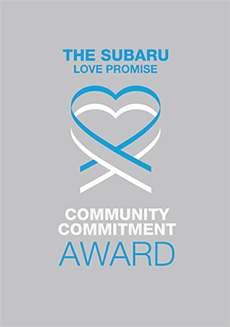 We've been nationally recognized for our dedication to our community and the Subaru Love Promise.
We're honored to receive the 2023 Subaru Love Promise Community Commitment Award. This award nationally recognizes Subaru retailers who are making the world a better place while demonstrating an outstanding commitment to supporting passions and causes in local communities. These efforts are focused in important areas such as the environment, community, health, education, and pets.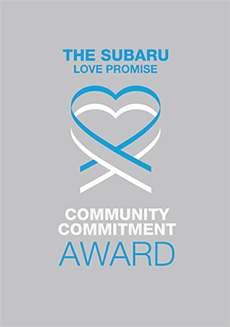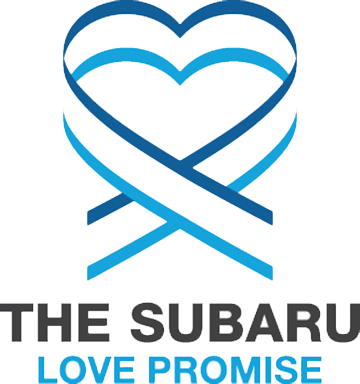 What is the Subaru Love Promise?
Subaru and our retailers believe in making the world a better place and the Subaru Love Promise is our vision of respecting all people. This is our commitment to show love and respect to our customers and to work to make a positive impact in the world.
How is Zeigler Subaru of Kenosha dedicated locally to the Love Promise?
Our Love promise can be seen with our continued commitment to the local Kenosha area community and business's. As a Subaru retailer we take great pride in not only being apart of a great community but also to serve it. We push ourselves everyday to be more than a car dealership with the hopes of truly making a difference.
Safe Harbor Humane Society
Brass Elementary, Pleasant Prairie Elementary
Love Promise Stories from Zeigler Subaru of Kenosha
Subaru and Zeigler Subaru of Kenosha believe in making a positive impact on the communities in which we live and work. We uphold that belief through our Love Promise Community Commitment. Every month, we select inspiring stories from customers and partners from around our area who strive to support our collective commitment and feature them here
Brass Community School Feels the Subaru Love - Joel K
For the past two years, students and staff at Brass Community School have been very fortunate to partner with Subaru and AdoptAClassroom.org. This partnership has allowed teachers to support the learning in the classroom with additional supplies, flexible seating, technology, and so much more! We are so grateful to be able to call Zeigler Subaru of Kenosha a partner and honorary Bulldog.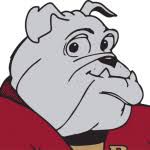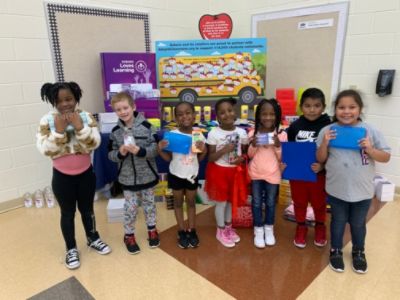 ---
Zeigler Subaru of Kenosha Brings Love and Hope to Cancer Patients - Shelby W
This summer, the Infusion Center at the Froedtert Pleasant Prairie Hospital received 80 blankets and 25 arts & craft kids for their patients provided by the Zeigler Subaru of Kenosha team and Leukemia & Lymphoma Society's Illinois Region Chapter. These comforting gifts were also accompanied by personalized messages of hope cards written by customers and staff of Zeigler Subaru of Kenosha, pictured here. The notes were hung in the chemotherapy room for the patients to read during treatment – they loved them! We hope these blankets warm the bodies and hearts of Froedtert Pleasant Prairie's patients and provide hope for a brighter future. Many thanks to everyone at Zeigler Subaru of Kenosha for your continued support of LLS and our mission and to the cancer support team at Froedtert Pleasant Prairie for all that you do for your patients.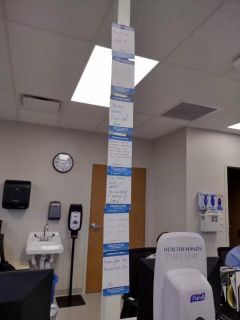 ---
A kind gesture during a hard time - Michael B
I wanted to share a story about how Zeigler Subaru made a difference for us during the Covid 19 pandemic: I was a night shift nurse at a hospital on the Covid unit during the height of the pandemic, medical staff were working extra hours and had been taken from their own families to care for the sick and dying. This was mentally and physically exhausting for us. We were away from our families and in a situation none of had ever been in before. Multiple restaurants and people in the community donated food and snack trays almost daily to the day shift at the hospital. The only problem was that no one thought of the night staff that was working equally as hard. Zeigler Subaru of Kenosha thoughtfully sent the night shift a large amount of Italian food, so much that we were able to feed every department that night including the security staff that keeps us safe. It meant so much to us to be able to take a breather and have a meal together and enjoy few laughs if only for a short time. Thank you Zeigler Subaru for thinking of the rest of us out here and giving us a little bit of joy during such a hard time.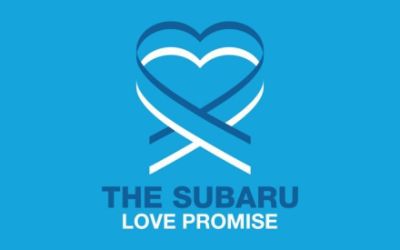 ---
Kenosha Art Association - Michael B
The Kenosha Art Association was honored and excited to participate in the March coloring contest fundraiser. The pandemic has been a strain on us all especially for non-profit groups. We have had to cancel 3 major fund raisers in the past 2 years, your donation of $2500.00 is appreciated. Your generous donation will help us continue to prosper so we can stay a community enriching organization in Kenosha. Just a little about the Kenosha Art Association: we are a nonprofit organization which has been in existence since 1950 and is dedicated to art enrichment in the community, art education to artists of all kinds. We are located in the S. E. corner of Wisconsin. We offer art classes to adult and older teens in the Kenosha area. We host an annual Holiday Art Auction featuring donated works of art from local and national artists. We host the annual Good Old Summertime Art Fair the 1st Sunday in June. We donate art scholarships to local colleges and Kenosha Unified School District students annually.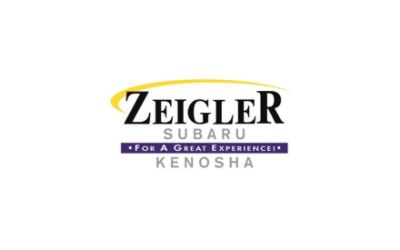 ---
Paying it forward in Wisconsin - Sharon P
Tucked away in a rural farming area of Wisconsin sits the Sharing Center. Most people don't know it exists unless they need help themselves. The Sharing Center is the rural crisis and resource center, meeting the needs of western Kenosha County, an area where nearly half live paycheck-to-paycheck. Few large corporations call this area home, so we must work each year diligently to fundraise the necessary support that assures children and seniors are safe, warm, and fed and families have the opportunity of financial security. The local companies who do support us help us up-level our ability to care for our community. Subaru of Kenosha is one of them. In 2018, Subaru of Kenosha associate Laurie Myra nominated us as one of the Share The Love partners. We were honored to be chosen for this national and local fundraiser. And what we did with the donation is noteworthy: we stayed open every day through a pandemic as the source of crisis help, emergency food, rent and utility assistance, COVID-19 information, vaccination clinics, and domestic violence & mental health services. In addition, we were the hub of all homeless services in a 200 square mile area, piloted a historic home-delivered student summer meal program (86,000 summer meals served!), and were a source of information, comfort, and care in a time of uncertainty and crisis. We paid it forward and Shared The Love with rural Kenosha County in a way only made possible through this level of support. Here at the Sharing Center, we say, "THANK YOU" and promise to continue to pay it forward and Share the Love in rural Wisconsin.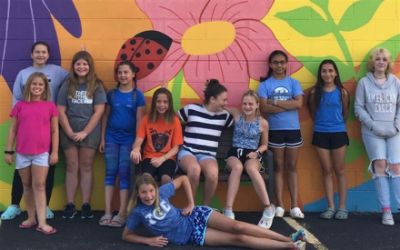 ---
Coming back to Subaru Family - Krystian T
I recently returned to the Subaru family with a purchase of 2021 Crosstrek limited. Just wanted a good daily driver and I always loved Subaru and followed it in motorsports. Zeigler Subaru of Kenosha went above and beyond to treat me like a family. I have to thank especially to my sales person Stephanie Hafez! She was very professional, very knowledgeable and friendly. She truly made this the best buying experience in my life! She answered all the questions I had about the car including some technical ones. I went with limited trim because of all the options and the bigger engine. She is a great asset to the Subaru team! 17 years ago I bought a 2004 WRX in Java Black Pearl. At 19 years old it was my first big purchase. I saved and worked so hard to afford that car. I was a rally fan since young age and Subaru was always my favorite team. I regret every day that I sold that car! I wish soon I'll be able to buy a project car same 2004 Subaru Impreza in Java Black Pearl but this time an STI. So I can teach my son (he is 5) how to work on cars and so I can have my dream car back!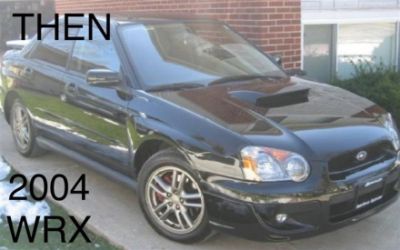 ---
"Stuff a Subbie" - Mike B
Last Saturday Zeigler Subaru of Kenosha hosted their 5th annual "Stuff a Subbie" toy drive. Zeigler Subaru teams of with Toys for Tots to help make an impact on the local community. While there, Miss Wisconsin even came in to donate toys! It is great to see Zeigler Subaru continue to focus on bringing aide and joy to the local community!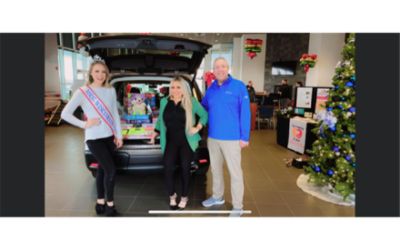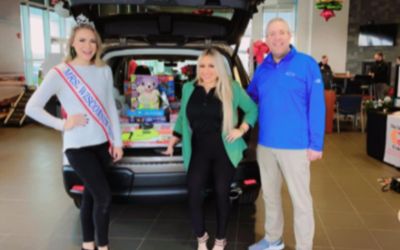 ---